Over 2,500 SEIU Local 2 janitors ratified a historical two-year deal. "We've won big raises: $1.20 for everyone retroactive to the beginning of the month, and $1.10 next year," said Elsa Paulino, one of the members of the bargaining committee. "Plus, premiums are all up 25 cents, and we will be back at the table for more improvements in two years."
Paulino works with Bee-Clean at a Downtown Vancouver Oxford Properties' office tower. She started as a night cleaner in 1996 when she got her open work permit.
Agnes Estimo works with Best Service Pros at Metrotown and is on the Justice for Janitors Vancouver Branch Local Executive. She was also part of the bargaining committee and understands the enthusiasm with which cleaners have received the Agreement.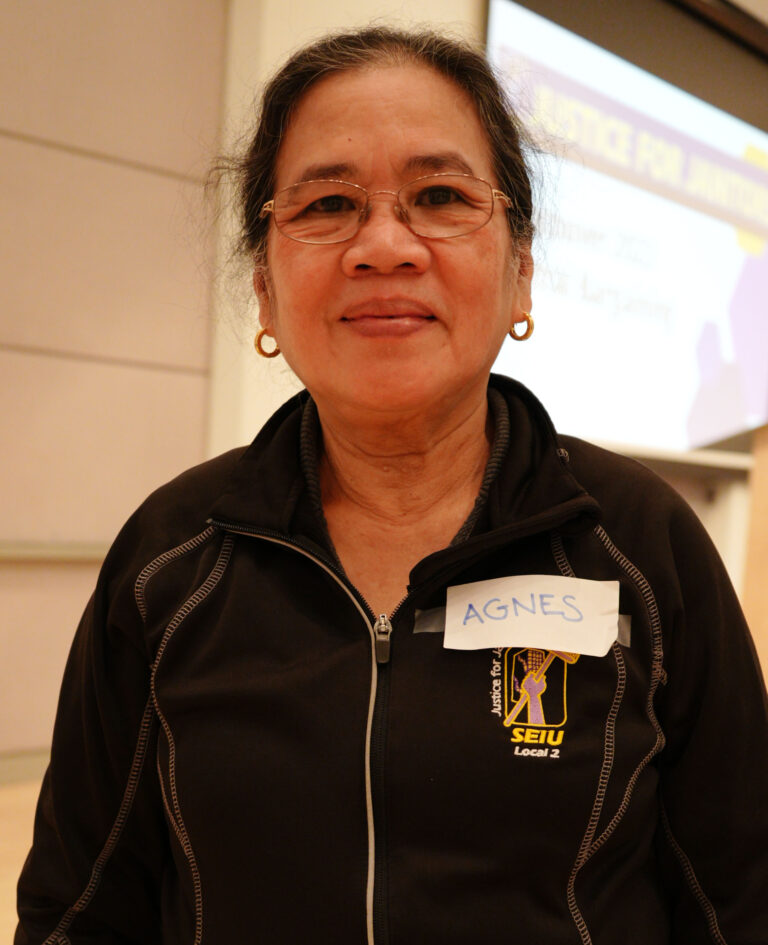 "By standing together and voting to strike cleaners across the city have been taken seriously," she said. "We won wage increases that are above inflation. My co-workers are very happy with the results of the CBA, some of them will be receiving increases of $1.45 per hour."
Janitors from across Metro-Vancouver, Victoria and Kelowna had been in negotiations since early May. They voted to approve a strike on June 3rd after employers failed to address their key concerns, including wages and improved benefits. The deal was struck late last week, about a week before cleaners were to begin an increasing wave of rotating strikes. It was the first time since the 1980s that so many cleaners were negotiating jointly in the city at a central bargaining table.
The New Collective Agreement also includes a minimum wage trigger which takes effect immediately upon the minimum wage increasing, as well as enhanced overnight and forklift premiums. Like all workers, janitors have been experiencing the effects of an unprecedented rise in the cost-of-living. At current wages, even basic necessities are out of reach. Last month, the Consumer Price Index (CPI) as calculated by Statistics Canada had annual inflation at 6.8%, the highest seen in 31 years.
The improvements will make a real difference in the lives of workers beyond wages. The janitors won improved vacation time and Holiday pay; they qualify for benefits faster; have better job security and more.

"This agreement now prevents subcontracting which will help protect good, unionized cleaning jobs for people in our community," said Raju Mahesh, a bargaining committee member who has been working in the janitorial industry since 1990. He's employed by C&W Services at Surrey Campus of Kwantlen Polytechnic University since 2017 where subcontracting has been a problem.
The majority of the voting took place on Sunday at the janitors' annual picnic at Burnaby Central Park, but polls did not close until 5 PM Monday.
The picnic was attended by numerous supporters and special guests including: Harry Bains, MLA for Surrey-Newton and the Minister of Labour; Raj Chouhan, MLA for Burnaby-Edmonds and the Speaker of the Legislative Assembly; Mable Elmore, MLA for Vancouver-Kensington and the Parliamentary Secretary for Anti-Racism Initiatives to the Attorney General; Janet Routledge, MLA for Burnaby North
Bonita Zarrillo, MP for Port Moody—Coquitlam; Mike Hurley, Mayor of Burnaby; and Sussanne Skidmore, President of the BC Federation of Labour. Migrante BC was also in attendance and brought a truck bed of groceries for members.
"Congratulations on the work you do to improve working conditions for workers across Canada," Zarrillo said Monday on her Facebook page.
"It's always great to be surrounded by my friends from SEIU who are always advocating for improved standards for all workers!" added Minister Bains on his page.
"Happy to support the SEIU Local 2 membership at the Justice for Janitors Picnic in Central Park today!" said Mayor of Burnaby Hurley through Twitter on Monday. "Great to see this organization make such tremendous strides over the last few years."
The SEIU Local 2 members represented at these negotiations clean public transportation systems, commercial office buildings, government buildings, shopping malls, food courts, post-secondary institutions, private schools, healthcare facilities, courthouses, and more. They are working for eight of Canada's largest cleaning contractors.
For the first time in Vancouver, Bee-Clean Building Maintenance, Best Service Pros, GDI Integrated Facility Services, Alpine Building Maintenance, Ultra-tech Cleaning Systems, Hallmark Housekeeping Services, BGIS Integrated Facility Management and C&W Services were all at the central bargaining table. SEIU has previously successfully negotiated master agreements through central bargaining in Toronto and Ottawa.
"We came together to a central bargaining table and through our resolution, strength and unity were able to successfully achieve major gains for all workers within the industry," said Catherine Bussey, a Skytrain cleaner employed by Bee Clean. "We clearly demonstrated the power of working together as a union and proved people have the power to make positive changes."
"If you're a janitor and don't have a union," said Bussey, who was also on the bargaining committee, "Don't wait, join us!"