"We could not be happier when we learned the results of our union vote. Some of my co-workers have been working over 20 years at this mall making minimum wage so we were all ready to see some positive changes around here," said Agnes Estimo, one of the leaders on the organizing committee who works the afternoon shift at the mall.
The voting took place last week by email and the results were counted today by the BC Labour Relations Board. 
"We are very happy with the result. We had to fight hard for that victory. Management was interfering, but they know us. They know that we have been loyal employees, but after many years of work we are still at minimum wage. How is that fair? How can we afford to live off of that? Now that we won, we are looking forward to bargaining with Dexterra for a contract."  exclaimed France Espanola, an exterior worker at the mall.  
The workers will join other unionized Dexterra workers at the negotiating table in early August to bargain a first collective agreement in BC. They are hoping to win paid sick and personal days, health and dental benefits that include part-time workers, and higher wages that meet the increasing cost of living in the Lower Mainland. 
"With our union, we are ready to stand up for ourselves, our families and our communities. After working for 23 years at the mall, it was about time we acted together to make the changes we all want and now demand," says Yolanda Duenas. 
Metropolis at Metrotown is BC's largest shopping mall and the third largest mall in Canada. The property is owned and managed by Ivanhoé Cambridge, a real estate subsidiary of the Caisse de dépôt et placement du Québec (CDPQ) and owns close to $65 billion in real estate assets.

For years, the janitors at Metrotown – the majority who are racialized workers – have kept the mall safe and clean for BC residents and thousands of visitors around the world but have been making minimum wage and working with no paid sick days. Starting today, this is all going to change.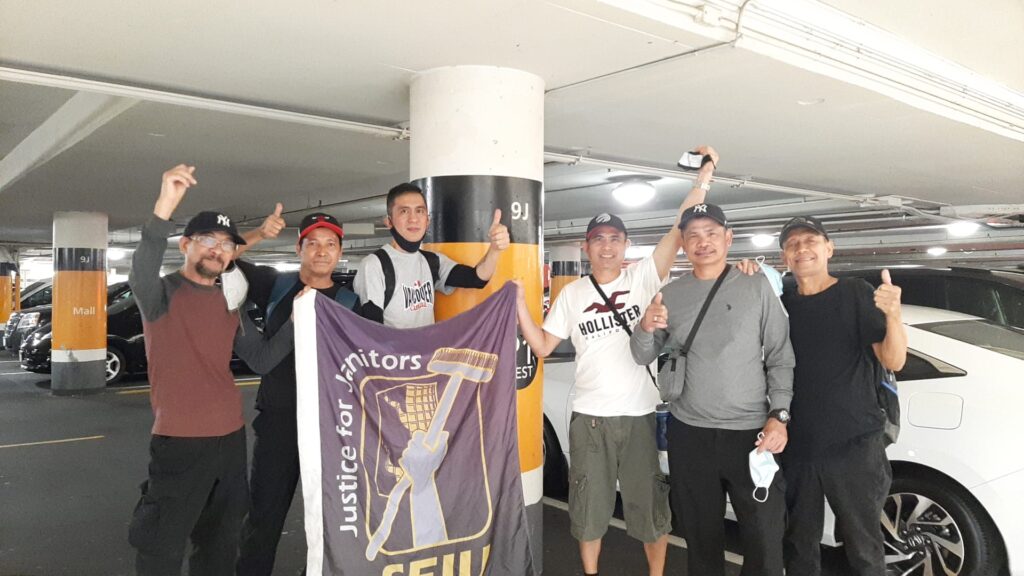 Metrotown exterior workers are excited to start bargaining for workplace improvements this August!
Metrotown workers celebrate a hard fought victory at the end of their shift after winning their union vote on July 22, 2021.